Completion Of The Google IT Support Professional Certificate And My Opinion Of The Online Courses
I recently completed the Google IT Support Professional Specialization certificate through Coursera. I was very happy to receive a scholarship for this and it was a great all around course.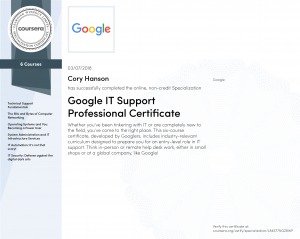 It covered many topics including certifications in technical support fundamentals, computer networking, systems administration, IT automation, and IT security. The course was very fun and engaging to follow along with and it included peer reviewed assignments along with periodic graded quizzes.
While taking this course, I was simultaneously taking the Android Intermediate Development course with Udacity through the Grow with Google Challenge scholarship. I can tell you that I enjoyed Coursera's format in these two courses much better. There was much more interaction and testing to see if you had actually learned the material.
After trying YouTube, Lynda.Com, Coursera, and Udacity — I can say that Lynda.Com has absolutely been my favorite, followed closely by Coursera and YouTube. Lynda.Com's video's are very professional and very easy to follow along. The videos are on par with what I have seen with Coursera, with Coursera and Udacity generally being more expensive. Coursera's format may be worth the price, but in my opinion, Udacity is not. I may be giving them both another try in the future, however.
I still have yet to try out CodeAcademy and FreeCodeCamp, but I am saving these for later since I have gotten the courses with time limits out of the way.
With the cost-per-benefit of getting your education in Information Technology at a College or University being extremely high, being a self-motivated learner and using these lower cost alternatives is a no-brainer.